PRINTABLE DIRECTIONS AND LAST MINUTE WORKSHOP DETAILS

UPDATED: May 1, 2003

WHAT: "Low-cost Sustainable Dome Building with Hybrid Adobe" - A hands-on workshop teaching Hybrid Adobe

WHEN: Saturday and Sunday May 3 & 4, 2003. 11 AM to 5:00 PM daily. Overnight camping included.

WHERE: Eleusis Community: 920 beautiful, forested acres in Northern California's wine country, near Middletown, CA. About a two hour non-stop drive north of San Francisco. Carpooling can be arranged. Directions below.

WHO:
Host: the Eleusis Project.
Workshop Leader: Philip Mirkin, Hybrid Adobe Builder & Experimenter

COST: Sliding Scale, Saturday or Sunday $45-$75; $35 for students/elders each day. Entire weekend (including camping) $85-$135, $65 for students/elders. Work exchanges and scholarships available. Please request in advance.

CONTACT: email or call 866-305-1403 and leave a message

WEBSITES:
www.hybridadobe.com
www.eleusis.org

The Hybrid Adobe Dome workshop at Eleusis is basically full! We can accommodate a few more people perhaps, but you must register to hold your spot. 43 people have said they are coming, not counting the contingent from Davis, CA of perhaps 10 people. That puts us at three over. If you are an Eleusis volunteer or doing a worktrade, please contact me or Elicia ASAP, elicia@elicia.org, to let us know when and if you are definitely coming.

Thanks for your participation and your contributions in advance. If all goes well, we may complete the first layer of Hybrid Adobe and actually enclose the dome this Sunday.

If you haven't already confirmed to me, Philip (Felipe) Mirkin, that you are definitely coming this weekend, please send me an email at: or call 866-305-1403. Include your mailing address, email and phone number, and the day (s) you are coming. Let me know if you are staying overnight and if you can either provide a ride or need a ride to Eleusis. Since we are about full, REGISTRATION IS NECESSARY.

We are building this dome in a lovely clearing by huge meadows on 920 beautiful, forested acres with a river running through it and some old-growth forest. We will have a common kitchen and meeting area and people can camp for free in their vehicles, in tents, under the stars and potentially in the dome we are building. Please bring your own gear including a folding chair (if desired), tent and gear for self-sufficiency.

We plan to cover the building with tarps before the weekend and actually use it, as it may serve as a big sleeping area or as the kitchen, if it rains.


CARPOOLING:

If you have room in the car for another person, please let me know and contact those needing rides directly. Carpooling saves gas, parking space, and resources. If you need a ride contact me, Elicia or those offering rides below.


DIRECTIONS TO ELEUSIS:

We are about five minutes west of Middletown, north of Calistoga, not far from Harbin Hot Springs. It is about a two hour non-stop trip from San Francisco. Here's a map showing our location respective to local roads...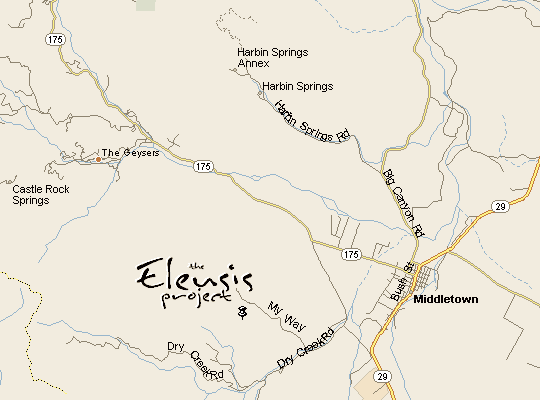 FROM SAN FRANCISCO (OR THE NORTH BAY)...

Take 101 North across the Golden Gate Bridge.
Exit at River Road (a few exits north of Santa Rosa).
Turn right at the exit onto Mark West Springs Road.
Follow until a T-junction. At the junction turn left following signs to Calistoga.
Again follow until a T-junction. Now you are on the outskirts of Calistoga; there's a gas station on your right. Turn left.
Go about a mile, then go right where you see the highway sign to Lakeport.
Go about a mile (past the geyser) and then turn left onto Highway 29 towards Lakeport.
Follow this road up the mountain. The road is steep and winds around many turns for about half an hour. After the road starts to level out, continue a few more miles. Pass Hildebrand Road. Watch for the Twin Pines Casino on your left.
Just past the Casino, turn left onto Dry Creek Road.
Take an immediate right, driving past a vineyard on your left, for half a mile to a T junction. Turn left at the T.
Go a short distance and you should see a road called My Way on your right, where there is a bridge.
Turn right on My Way.
Go about a quarter mile or less and on your left you should see cars, a gate, and balloons. Park outside the gate and walk through the gate and look for signs of life.
You can unload your stuff here (others can help you with camping gear or bringing in tools, supplies or food). After unloading we will direct you to where you can move your car, as parking is very limited in this area.
If you find youself still on Highway 29 in the village of Middletown, you missed the turn by about a half mile, so turn around.
FROM THE EAST BAY (OR THE BAY BRIDGE)...

Take US 80 East.
Cross the Benicia-Martinez Bridge and immediately exit on Highway 29 north.
Drive north through Vallejo, Napa, St. Helena, and Calistoga.
Follow directions above from Highway 29.
If you'd like alternate maps or directions, visit Yahoo Maps and enter your destination as...
Address: Dry Creek Rd at My Way
City, State, Zip: Middletown, CA 95461


NEEDS REMAINING:

THINGS TO BRING if you can (please let me or Elicia know what you can contribute, if possible)
newspaper and magazines (Dave says they are bringing a literal ton of paper, but it hasn't arrived yet)
large tables with folding legs for camp kitchen, tools etc.
tarps, blankets, folding chairs for the common camp area
5 foot, or 6 or 8 or 10 foot, ladders, perhaps four of them total, for scaffolding. 
We need hoes, picks and shovels, and perhaps another wheelbarrow or two.
axes and firewood and folks who like to chop -- chop wood, carry water
MANY 5-gallon buckets (like paint buckets, with lids if possible)
used 2X4 and 2X6 or 2X12 for making adobe forms, and scaffolding in any lengths over 2 ft.
hammers and nails etc, screwdrivers, cordless drill and drivers/bits
pliers, wire (such as baling wire or metal wiring etc...)
extension cords, staple gun and staples
tarps and shade cloth, large clips, bungee cords and nylon rope
garden hoses/siphon
hand cart or rickshaw, dolly etc. to bring in buckets, supplies etc. from the road to the camp site or worksite
trash cans or something large for soaking paper in
THINGS TO ACQUIRE:

For the weekend we must rent:

a chipper/shredder
possibly a small electrical cement mixer
a generator
a water pump and hoses
If you have any of these items and can bring them along on Saturday morning, please let us know, otherwise we have to rent and haul them in.


WORKTRADE AND ELEUSIS PEOPLE:

If there is any chance for you to come early, please help out the others who are showing up on thursday and/or friday. I'll arrive early Thursday afternoon and we'll have fun advancing the dome creation together: We'll be tying beautiful manzanita into the dome and creating a sculptural element to the building. We'll also prepare the campsite spaces, set up the kitchen, finish clearing the paths, set up the mixer and start making hybrid adobe.

WORKTRADE AND ELEUSIS PEOPLE, REGISTER PLEASE:

If you have told Elicia or someone you are coming please register by providing contact info, day you are coming, mention your contribution, etc.


STUFF TO BRING:

The meals are potluck, we all share the bounty we bring. Please bring enough of one dish to feed up to five people. Bring dishes, utensils, cups etc. If you have an ice chest for the leftovers, or a stove for cooking, please include it.

Day visitors should bring work gloves, old work clothes, fresh clothes for afterwards, work boots or shoes for the mud, pen and notebook, potluck dish for lunch and or dinner, musical instruments for the gathering afterwards, drinks to share etc.

OVERNIGHT CAMPERS:

Please be prepared to be independent for your camping needs. We will setup a common kitchen and if you have kitchen items to share or a stove, please bring them along.

Please include the following if you are camping overnight: tent, pad, sleeping bag, pillow, warm clothes, parka, raingear, flashlight, water, hiking boots, camp chair, tarps, extra clothes, work gloves, stuff to share

We have a toilet set up and there are many trails to explore. Bring musical instruments, a camera, binoculars, telescope and other fun stuff.


WEATHER:

The forecast is for most of the rain to end on Friday with perhaps morning drizzle on Saturday. Otherwise beautiful. We will do the workshop rain or shine since we can already cover the dome with tarps and do the seminar portion inside of it.

PLEASE BRING: raingear, hat and adequate shoes or boots for wet weather, just in case. The hands-on afternoon portion will be outdoors, naturally, although some can work inside the dome.


PROGRAM:

We will be doing different parts of the project on the different days and we'll focus on different aspects and applications. In the morning we will offer an informative seminar, then break for lunch around 1PM and do hands-on in the afternoon.

Saturday is usually more informative and practical and Sunday is usually more creative....both days are hands-on, however, so bring your old clothes and a change of clothes. You can come for just one day only and learn how to make and use the material, of course two days is better. We'll cover how to build a small building and many other applications, for garden, sculpture, insulation, remodeling, fireproofing etc.

Please let me know when you decide which day (s) you plan to come if you haven't already.

Last weekend (April 26-27) we had a lot of fun at Eleusis. We constructed the frame for the dome. Many thanks to the wonderful Eleusis volunteers and good folk who came to the land and created community together... About 20 of us joined to harvest the materials and erect a frame from fir, cypress and manzanita. We chose the site, set up the common area, cleared some paths and the building site. Our goal for next weekend is to enclose the dome with the hybrid adobe we'll make.

We are looking forward to meeting many of you for the first time this weekend. Already knowing many of you who are coming I can say that WE HAVE A GREAT GROUP OF PEOPLE and fun will be had by all.


INFORMATION AND REGISTRATION:

Email:
Phone: 866-305-1403 for registrations and messages throughout the weekend
www.hybridadobe.com
www.eleusis.org

###