PRINTABLE DIRECTIONS TO ELEUSIS

UPDATED: May 8, 2003

CARPOOLING:

If you have room in the car for another person, please let me know and contact those needing rides directly. Carpooling saves gas, parking space, and resources. To arrange, please contact Philip, Elicia, or others whom you know are attending.


DIRECTIONS TO ELEUSIS:

Eleusis is about a five minute drive west of Middletown, 30 minute drive north of Calistoga, and a 10 minute drive south of Harbin Hot Springs. Plan for a good two hour trip from San Francisco if you are driving non-stop. Factor in more buffer time if you plan to stop to eat or do some sightseeing along the way.

Here's a map showing Eleusis' location respective to Middletown and Harbin...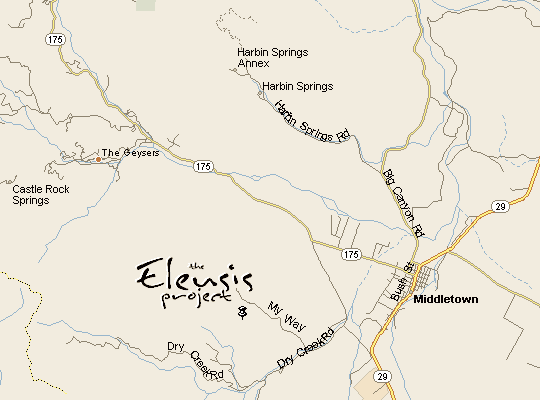 FROM SAN FRANCISCO (OR THE NORTH BAY)...

Take 101 North across the Golden Gate Bridge.
Exit at River Road (a few exits north of Santa Rosa).
At the end of the exit ramp turn right onto Mark West Springs Road. Stay on this road for 10.1 miles. At about 5.4 miles, the road's name changes to Porter Creek Road.
Follow until a T-junction. At the junction turn left (on Petrified Forest Road) following signs to Calistoga. Stay on Petrified Forest Road for 4.5 miles.
Again follow until you reach a T-junction. Now you are on the outskirts of Calistoga; there's a gas station on your right (note: relatively cheap gas!). Turn left at T-junction on Foothill Blvd. Follow Foothill Blvd for 0.8 mile.
Turn right on Tubbs Lane where you see the highway sign pointing to Lakeport/ Middletown. Follow Tubbs Lane for 1.3 miles.
Go past the geyser on your left and then turn left at the stop sign onto Highway 29 towards Lakeport. Follow Highway 29 for 13.6 miles.

Follow this road up the mountain. The road is steep and winds around many switchbacks for about half an hour. After the road starts to level out, continue a few more miles and watch the crossroad signs. Soon after you pass Hildebrand Road, watch for the Twin Pines Casino on your left.
Just past the Casino, turn left onto Dry Creek Cutoff Road.
Follow Dry Creek Cutoff as it takes an immediate right, passing a vineyard on your left for 0.6 mile until the main (paved) road turns sharply left. (If you start to cross a rocky creekbed, you missed the left turn, go back.) This stretch of the paved road is called Dry Creek Road. Follow this for 0.7 mile. The first 0.4 mile is paved, the next 0.3 mile is gravel. You will see a road called My Way on your right, with a bridge near the intersection. This is the border of the property.
Turn right on My Way and cross the bridge.
Go about a quarter mile or less and on your left you should see cars and a gate. Park outside the gate and walk through the gate and look for signs of life.
You can unload your stuff here (others can help you with camping gear or bringing in tools, supplies or food). After unloading we will direct you to where you can move your car, as parking is very limited in this area.
FROM THE EAST BAY (OR THE BAY BRIDGE)...

Take US 80 East.
Cross the Benicia-Martinez Bridge and immediately exit on Highway 29 north.
Drive north through Vallejo, Napa, St. Helena, and Calistoga.
Follow directions above from Highway 29.
If you'd like alternate maps or directions, visit Yahoo Maps and enter your destination as...
Address: Dry Creek Rd at My Way
City, State, Zip: Middletown, CA 95461

INFORMATION AND REGISTRATION:

Email:
Phone: 866-305-1403 message number for pre-registration or messages during the workshop
www.hybridadobe.com
www.eleusis.org

###